St Femma - Sold October 2014
Grey 16.1 hh 2007 TB mare
Sire: St Averil ~ Dam: Jubilant Femma
Emma is a sweet, steady, reliable mare. She is beautiful and big bodied -- her body type and movement are quite warmblood-ish.

Around the barn we refer to her as "the good girl." I bought her in late 2013 as a fun project because of her super mind and outstanding work ethic. Her athleticism and 3 nice gaits earned a 67.9 her first dressage outing. She is easy to get on the bit and has an easy sitting trot. She is very logical in her mind an would be easy for an amateur to develop up the dressage levels. She is athletic enough to go over fences also.

I have had several different riders on her, and found her to be willing with every rider. She hacks out, trailers easily, stands for the shoer, and all of the normal good-girl things. Her previous owner did jump her, and if she doesn't sell first, I will put her over fences again also. She flexed clean for the vet on 7/10/14.
ShowMeTheGlory - Sold September 2013
Bay 15.3 hh 1999 TB gelding
star, snip and 4 white coronet bands
There's this idea that, in horses, we have to choose between safety, fancy, and affordability. You can have safe and fancy, but not without a big checkbook. Or you can have safe and affordable, but not on a competitive dressage horse. Or fancy and affordable, but not safe. SFD's sales mission is to change that. We strive to offer well trained, safe, affordable, fancy dressage mounts. Everyone deserves to have a horse that makes their heart sing, and in our sport, a safe, fancy, affordable mount is the melody.
ShowMeTheGlory (known as Pee Wee around the barn) meets SFD's mission statement.
Pee Wee is "that horse." You know the one, that horse that is fancy enough to win at a dressage show one weekend, and sensible enough to go on a paper chase the next. The one that you can let your visiting relatives take a ride on, yet still be flashy enough to be competitive.
Pee Wee is, above all things, a good boy. At the shows, he scores mid to upper 60's at training level and is schooling 2nd at home. He trail rides on the buckle, stands for a bath/shoer/vet/etc. He walks on the trailer and ships like a champ. He has the most adorable beg-for-treats face. He is started over fences, but let's face it, this is a dressage barn and he's good at dressage, so I keep forgetting to plug his jump days into the schedule.
He really is good at dressage. When you hold the reins and put your calf on, he puts himself on the bit. He not only puts his head in position, he lifts his shoulders and swings his back. He is super easy to sit, and follows the seat like a schoolmaster. Actually, better than a schoolmaster, because he is generous. He is very honest in his reactions to the aids, and gives 150% every minute.
Simply put, this little guy is a blast to ride. He is going to make someone really, really happy.
"I recently purchased a horse from Straight Forward Dressage. I can't say enough about the honesty and integrity of Ange Bean, the owner of SFD. She told us the positives and the negatives about the horse and she was right on. No surprises. He is a great horse and I couldn't be happier with him. Ange is now instructing me and will be the first person I contact when I'm ready for my next horse. " ~Lydia Wingert
Secret Star - Sold August 2013
15.2 hh, 2004 mare
By Sandro Hit
The longer I get to ride SecretStar the more impressed I am by her ability and intelligence. I knew before she came, by just looking at her pedigree, that she would be a super athlete. But what pedigree doesn't show is her strong desire to be a good girl and do what makes a rider happy. Her phenomenal work ethic combined with her athletic body has made her an absolute joy to train.
That training has paid off in the show ring. I have had her out three times, and every time she is given the blue ribbons. She scores high marks on her lengthens and earned a nine for the stretchy circle. Another time she gave me high score dressage ride the day. She is consistently in the high 60's to low 70's.Her first level skills are clearly polished enough for the show ring, and she's working hard on second and third level at home. She is an uncomplicated, sweet, wonderful mare that would make an excellent competition partner for an adult amateur, young rider, or smaller professional.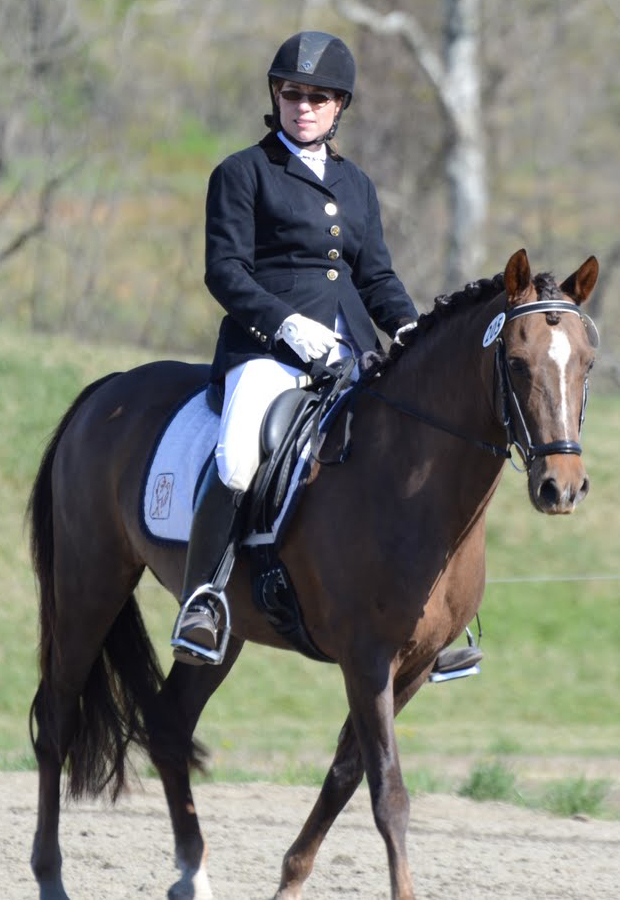 Ensign's Stately Mandolyn - Sold January 2013
14.1 hh, 2004 Morgan mare
By Chief of State, out of Vermont Maid Lauriet, by H-Ken
This large-bodied (really large, wears a 76" blanket) can easily carry a child or small adult to whatever their competition goals are. Mandy has done well in the dressage ring and shows ability in her limited jumping experience (the video is her 4th time over fences, and her first time over anything other than pvc poles). She has a super mind and a willing attitude—she really is a joy to work with.
Mandy came to SFD as a 4-year-old to be backed, then returned to Ensign's Grace as a broodmare for a few years. In 2011 she returned to SFD to continue her under saddle career. She has shown well in dressage, with everyone who sees her commenting on her excellent hind leg and her super mind. She is schooling 2nd level movements at home, and earning consistent mid 60-'s at training levels against tough competition – twice now earning the high-score Morgan award. She has been long lined, and accepted it with ease, so combined driving is also a career option for her. She has the talent to be competitive in the FEI Pony division, and the boldness to become a pony jumper. Plus she is super cute, easy to handle in the barn, has super comfortable gaits, and is easy to get on the bit.
She has been through SFD's solid-citizen training program, and does all of the good-horse things you would expect of a trained horse. She is ready to make some one really happy.
Her father, Chief of State, excelled in both single and pairs combined driving, and is a son of The Statesman—sought after bloodlines for foundation Morgan breeders. She passed along her characteristic Statesman conformation and excellent mind to her offspring.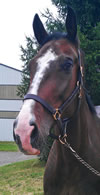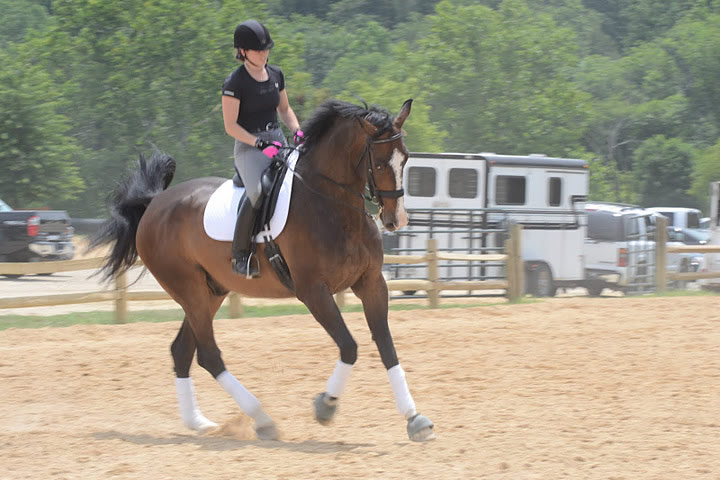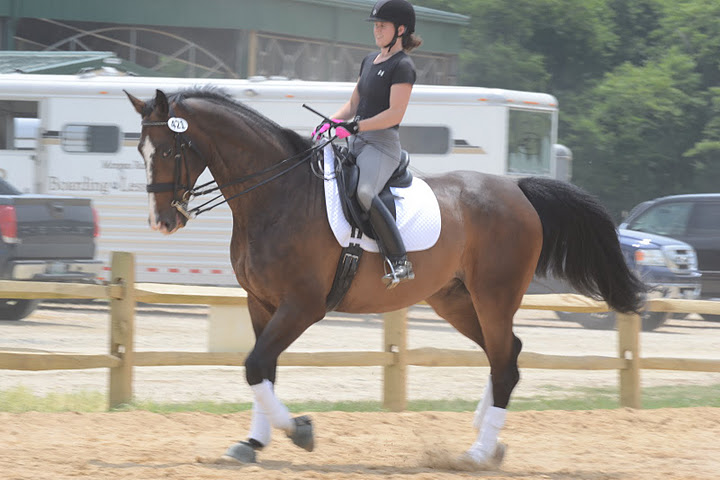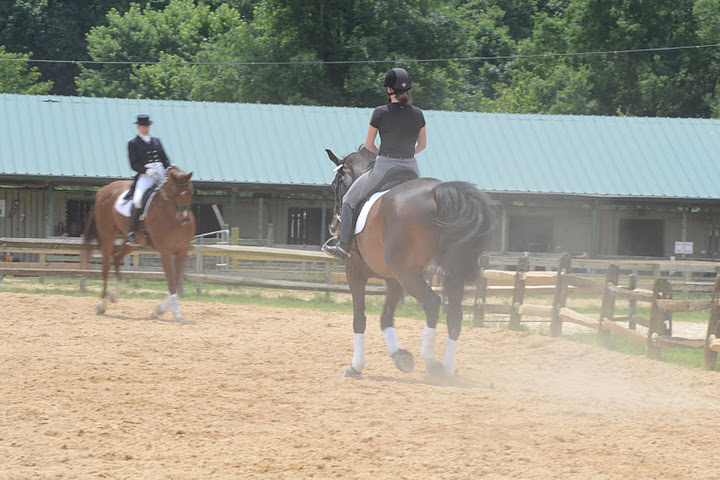 Legend of Shamrock ~SOLD April 2012
Legend has the talent and presence to play with the big boys. He is the perfect horse for an educated rider on a limited budget. This horse is really fun. He has a great personality, great gaits, and eye-catching charisma. Dont let his size fool you, he is super sensitive and light off the aids. Legend spent the winter cementing his basics, and he clearly has what it takes to climb the levels. His expressive gaits are surprisingly easy to sit. Two years ago he dominated first level with scores consistently around 70%. He is currently competing at 3rd. His changes are smooth and his mediums are expressive. He goes well in the snaffle or the double, hacks out in the fields alone or with a buddy, and does all of the usual "good boy" stuff. If he continues to develop as he has, his price will go up soon.